For an engineering report on an API retrofit, Click here.
Replacement wheels, rotating assemblies, fan housings, dampers, shafts, sleeve oil bearings, field installation, and start up services are available. Contact Ron Bennett at 502-767-5415 or ronwbennett@yahoo.com. Field measurements at your plant are available by our Clarage Field Service representatives. Also we provide engineering services for:
Unbalance
Resonance
Vibration
Structural analysis
Problems in foundations or supports and many other areas
Bad bearings
Misalignment--bearing couplings and driving devices
Worn parts
Improper tolerances on bearings
Electrical problems
Drive problems
The following are registered ® Trade Name companies, we would be glad to offer you a quote on a replacement part to our current ISO-9001 standards:
| | |
| --- | --- |
| American Blower | American Fan |
| American Fan | American Standard |
| Barry Blowers | Barron Industries |
| Champion | Buffalo Forge |
| Clarage | Chicago Blower |
| Garden City | General Blower |
| IAP | Howden |
| Process Equipment Company | IGE |
| Novenco | New York Blower |
| Robinson | Northern Blower |
| Sirocco | Phelps |
| Sturtevant | Sheldon |
| Westinghouse | Solyvent-Ventec |
| Buffalo HT | TLT Babcock |
| Zurn Air Systems (Clarage) | |
Available Alloys for fan wheels supplied by Clarage Fan Company:
A-36 (Carbon Steel)

A-242 (Corten)

A-514 (T1A)

A-588

Aluminum

Astralloy

Carpenter cb20

Hastelloy B

Hastelloy C

Hastelloy G

Hastelloy X

Hastelloy C-276

Haynes 25

Inco 600

Inco 617

Inco 625

Inco 800H

Inco 825

Jessop 700

L605

Monel

RA330

304 Stainless

304L Stainless

309 Stainless

316 Stainless

316L Stainless

317 Stainless

321 Stainless

330 Stainless

409 Stainless

410 Stainless

430 Stainless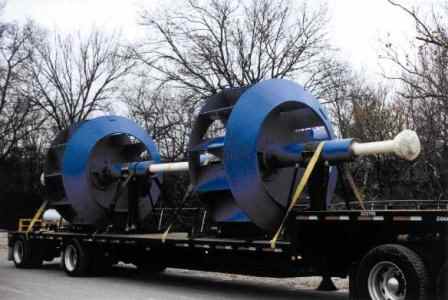 CENTRIFUGAL FANS - CUSTOM



Clarage's line of custom fans includes Airfoil, Backward Curved, Backward Inclined, Radial Tip, Straight Radial, and Forward Curved blade designs as well as a 2-stage Blower that can incorporate any of these blade designs. The fans are custom designed and built to specification for critical service applications such as Boiler or Heater Mechanical Draft, Forced Draft, Induced Draft, Material Handling, High Temperature Process or Corrosive Gas Handling where gas tight construction or centerline support is required.

New Centrifugal Fans - Clarage will supply custom design centrifugal fans in accordance with our customer's specification. Fans are primarily direct drive but belt driven fans are also available. Clarage custom fans can be engineered with the following design elements :

Width

Single Width (SWSI)
Double Width (DWDI)
2-Stage Centrifugal

Drive Arrangement

Bearings

Sleeve Type
Anti-friction
With or Without Inlet Box(es)


Available Centrifugal Fan Designs:
| | | |
| --- | --- | --- |
| Blade Type | Efficiency Range | Applications |
| Airfoil | 80 - 85% | Clean Air |
| Backward Curved | 75 - 82% | Light Dust Loads |
| Backward Inclined | 70 - 78% | Moderate Dust Loading |
| Radial Tip | 70 - 75% | Moderate to Heavy Dust Loading |
| Radial | 65 - 72% | Heavy Dust Loads, high pressure |
| Forward Curved | 55 - 70% | |
Performance & Size Range:
Size

Rotor Diameters to 160 inches

Airflow

Single Width: To 900,000 CFM
Double Width: To 1,400,000 CFM

Pressure

Single Stage: To 95" w.g.
2-Stage: To 150" w.g.

Temperature

To 1000°F

Speed

To 3550 RPM


CENTRIFUGAL FANS - STANDARD


| | |
| --- | --- |
| Clarage has a line of standard pre-engineered fan products. These products are suitable for commercial and industrial applications and can be modified to suit special applications. They are available in arrangement 1, 4, 8, 9 and 10 with air volumes from 200 through 450,000 CFM. | |
MULTI-TUBE CYCLONE DUST COLLECTORS




Multi-tube cyclone dust collectors are available in either standard (compact) or "TA" (totally accessible) configurations. Three tube sizes (6", 9" and 11.5") are available. Their primary uses are as pre-cleaners to protect ID fans, or to reduce the dust load going to an electrostatic precipitator or large baghouse so the size can be reduced, the efficiency improved or the useful life extended. Standard sizes to 2,000,000 CFM are available.


AFTERMARKET SERVICES


| | |
| --- | --- |
| | Clarage Aftermarket Services provide for the supply of replacement parts, the repair, rebuild or upgrade of Clarage and other fan manufacturers' equipment or on-site service for any customer's centrifugal fans. |
The timely repair and rebuild of existing equipment is a significant part of Clarage's business but it is not limited to our own equipment. Clarage can replace wheels, shafts, bearings, abrasion resistant liners, housing, flow control dampers and entire fan assemblies regardless of the original manufacturer.

Life extension has become a standard option that is regularly considered next to new replacement equipment. Clarage is expert at engineering new equipment to fit existing foundations and ductwork, upgrading existing equipment to achieve greater performance, and upgrading construction to better survive hostile operating environments.



FIELD SERVICE




Field Service is available to help extend the life of fans and collectors. Erection supervision, field balancing and on-site repair services can be provided anywhere in the world. Long-term service agreements are available to maintain and service equipment and to help identify developing problems in fans or collectors.


ENGINEERING / DRAFTING SERVICES




Drawings

Clarage routinely provides scalable fan or collector general arrangement drawings 2 weeks after order entry. Drawings can be transmitted via e-mail in .dxf format when required to speed the approval process or make the drawings available for the customer's system drawing.

"Software" Analysis
Finite Element Analysis - Clarage conducts this mathematical examination of stress levels in the dynamic parts of a fan routinely using 40-50 thousand elements. This analysis insures that the rotor design is conservative and will operate trouble free from a material stress level basis.
Torsional and Transient Torsional Vibrational Analysis - This analysis is required for variable speed fans and large fans subject to frequent starts and stops. It assures that high response torsional natural frequencies of the fan and drive train are not encountered, which if allowed to occur, would result in shaft or gear failures.
"Hardware" Analysis
Rotor Balance - Conducted on a Schenk balance machine capable of balancing a 160" diameter rotor. Clarage standard balance criteria for Custom Fans is according to ISO 1940-73 Grade 2.5. When critical balance is required Clarage can balance to 4W/N levels.
Mechanical Run Tests - Conducted on a fully assembled fan to insure proper housing fit-up and inlet bell / rotor fit. The fan is run continuously for up to 4-hours during which vibration levels and bearing operating temperature are monitored. The fan is then shut-down and the bearings are inspected.
Aerodynamic Performance Test - Generally conducted according to AMCA 210 requirements when conducted in the laboratory. Modeling of customer's inlet ductwork has also been conducted.
Natural Frequency "Bump" Test - Conducted on the rotor assembly to determine the rotor's component natural frequencies and to assess the potential for exciting harmonics of these natural frequencies during installed operation.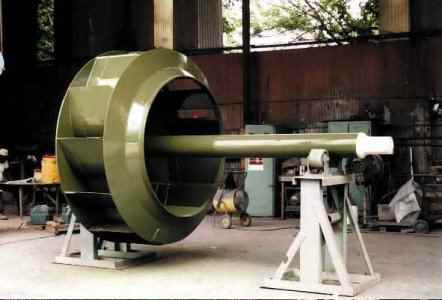 ---